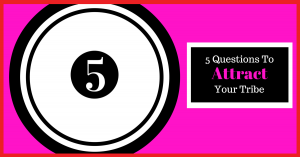 One of the biggest challenges faced by anyone starting a new business is finding their tribe.  And this is especially true for spiritual entrepreneurs like us because our tribe is so unique, just like we are.
But where are they and how do we find them?
There is so much chatter out there – we are constantly bombarded with information. Social media, text message, phone calls, TV, radio, we can't even drive down the street without being shown the latest gadgets on billboards.
To find and connect with our tribe they have to be able to "hear" us through all of that noise.
The $100,000 question is, how do we get them to hear us?
Well, you know when you're at a party, it's noisy, and there are conversations going on everywhere, but then suddenly you hear your name. Someone across the room is talking about you and you hear your name above all the noise.
This is what we have to do with our tribe. We have to be able to call out their name so they can hear us.
So how do we do that?
We have to find a way to connect and speak directly to them and we do this by showing them that we "see" them. We "see" them by understanding their situation, acknowledging their challenges and providing a solution for their problem.
To do this we need to know our tribe intimately. To get you started I have 5 questions that you MUST be asking in order to get to know your tribe at a soul level.
Question #1: What makes her get out of bed in the morning?
Knowing what get's her (or him, but for our purposes, let's assume your tribe is predominately female) out of bed in the morning gives you an idea of what motivates her. Does she start her day for her kids, her job, herself?
Question #2: What keeps her up at night?
When you know what keeps her up at night, you can being to understand her fears, worries and frustrations, giving you more insight into what makes her tick.
Question #3: What are her dreams and desires?
Her dreams and desires reveal where she wants to go in life. If there were no obstacles holding her back (mental or physical), then what would she be doing with her life?
Question #4: What's keeping her from achieving those dreams and desires?
Knowing her obstacles are a key component to understanding your ideal client, your tribe. We all have dreams, but we each have a different obstacle that is holding us back.
Question #5: How can you serve her?
What is your role in solving her problems and helping her get to where she wants to go?
Once you can answer these questions about your ideal client, your unique tribe, then you can begin to craft your message that speaks directly to her. Use the answers to each of these questions to create your message and show you understand her at a soul level.
When your tribe knows you understand them, then they will connect with you.
And that is how you build to tribe that loves you!
Want even more great tips for finding your tribe? I have a free gift for you, a Build Your Tribe Starter Kit. It gives you everything you need to know about finding and connecting with your unique tribe.
And leave a comment below. Let me know if you found this content helpful and what else you would like to learn about when it comes to building your spiritual business.
Until next time, be passionate, be inspired and live your dream.

Comments
comments